Making Overcomers and Restoring Community
Solutions Academy is a comprehensive 700-day vocational program that prepares families for lifelong success through career pathways, work experience, leadership training, family management skills, teamwork, financial literacy, personal development, accountability and connection.
Have You Struggled With?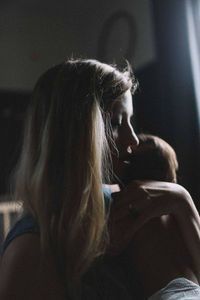 Personal addiction & alcoholism
Suffered trauma, abuse, or domestic violence
A family history of addiction, alcoholism, and abuse
Generational poverty
Toxic or codependent relationships
 Incarceration
Lack of education or work history
 History of unemployment
Loss of family, friends, children
Loss of housing
Do You Hope For?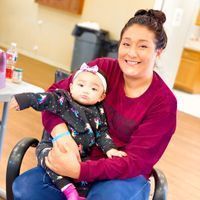 Stability and Safety for self and family
Reunification with your family
A supportive community that promotes sobriety, safety, and personal wellness
 Education to retain competitive employment
Independence from bad relationships and programs that keep you down
Ability to provide for self and family
Peace and freedom
No fear of what tomorrow brings
Empathetic peers with lived experience to help guide your journey
The Solution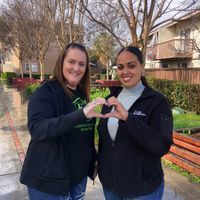 Solutions for Change is a results-driven, accountability-based approach to create Overcomers and restore community.  We have graduated over 1300 parents and supported 2800 children by equipping, inspiring and empowering them to break the societal chain of dependency, poverty, and pain. We perform these services through 3 unique enterprises: Solutions Academy (personal development), Solutions Enterprises (workforce development), and Solutions in the Community (community engagement and restoration).
Skills, Knowledge, and Resources
Solutions Academy is a 700 – Day vocational school that combines education, vocational training, peer support, a therapeutic community, real love compassion, customization, and accountability, wrapped in a model of Servant Leadership.
Solutions Academy is free of charge to families accepted into the program with an approximate scholarship value of $60,000 in education, employment training, coaching, and housing costs. All scholarships are underwritten by private donations, foundation grants, corporate contributions and faith-based support. The community has invested in each student and their family to achieve their full potential and overcome their vulnerabilities.
---
Life Skills

Enhancing skills for self-sufficiency: financial literacy, parenting, leadership, anger management and more.

Workforce Development

Connecting residents to job skills and opportunities for long-term employment and financial stability.

Physical Health

The renewal of families' physical health, equipping them to be healthy members of their community.

Youth & Teen Programs

A safe and supportive environment for children, with academic and emotional support to overcome past hardships.

Counseling & Mental Health

One-on-one counseling and mental illness supports, targeting the root causes of each family's homelessness.

Transformational Housing

Supportive housing for families where they can build skills needed to solve their families' homelessness.
---
Ending Generational Poverty
Solutions for Change breaks The Churn of homelessness and poverty for future generations. Families entering our program secure employment, finish their education, and maintain stable housing where children can focus on their education without the worries of homelessness. The children of families at Solutions for Change finish high school, go to college and learn the value of hard work and determination.
How It Works
Step One: Get to Know Us and Be Inspired
Solutions for Change is a family of Academy students, staff, Overcomers and the Community. Check out our Facebook and Instagram for daily insights and transformations.
Read our graduates Overcomer stories and learn more about Solutions for Change in the Community.
Step Two: Apply for Solutions Academy
●     Review Solutions Academy Informational Packet
●     Complete and Submit an Application
●     Call our front desk for questions and more information 760-941-6545 ext 301
●     Fax # 760-295-6027 your application (Please call and confirm that the application is received and to schedule a screening appointment. This is the applicants responsibility to schedule.)
Get ready to…
Acknowledge your ability for success
Commit to your transformation
 Redesign your future for you and your family
Break the generational cycle of poverty and dependency
* A portion of funding for Employee Related Training is provided by United States Department of Agriculture (USDA). USDA is an equal opportunity provider, Employer, and Lender.
---
An Academy Student's Journey
Healing & Retreat

● Group classes
● Bond with Solutions staff and cohort
● Therapeutic activities: meditation, journaling, fitness, art therapy
● Complete your prerequisites
● Get your peer coach
● Get a sponsor
● Create a personalized success plan

New Beginnings 1

● Prep for Success Classes: motivation, self-management, creating a support system
● Step Study
● Financial literacy: Intro to budgeting
● Intro to Servant Leadership
● Activities: Individual coaching, group & recovery classes, prerequisites

New Beginnings 2

● 101-Better Boundaries
● 101 - Financial Literacy
● 101 - Parenting
● 101 - Workforce Development
● 101- Health & Fitness:
● 101 - Servant Leadership
● 101- Relapse Prevention
● 101- Communications
● 201 - Financial literacy
● 201 - CODA
● 201 - Empowerment classes
● 201 - Emotional Intelligence
● 201- AOD
● 201 - Health & Fitness
● 201- Communications
● 201- Parenting
● Servant Leadership
● Workforce development
● Activities: Individual coaching, employment training, group & recovery classes, finalize career plan and education (GED)

Solutions For Living 1 & 2

Solutions For Living 1
● 301- Personal Development
● 301- New Socialization
● 301- Health & Fitness
● 301- Financial Management
● 301- Family Leadership
● 301- Career Planning
● 301- Professional Development
● Activities: Job search, employment, community projects, coaching, groups

Solutions For Living 2
● 401- Giving Back - Community Service
● 401- Staying out of the Comfort Zone
● 401- Mental Health and Spiritual Wellness
● 401- Financial Stability
● 401- As We Grow Together
● 401- More than a Job
● 401- Connect with the CEO - Career paths
● 401- Advanced Serve to Solve Project -
● Activities: Post grad housing secured, Graduate program application, coaching, community projects
---