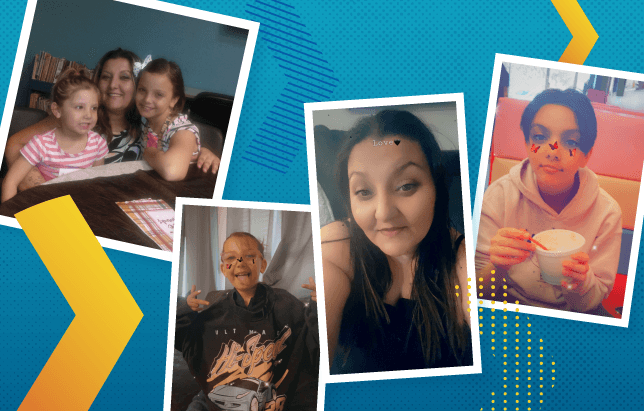 Jessica's family first gave her crystal meth at age 12.
From ages 12 to 29, Jessica was battling her addiction to meth while her three children were with their biological fathers or in Child Protective Services care.
By the third time she graduated from rehab, she knew she wanted change. Jessica's two daughters were released from CPS—and she wanted it to stay that way. Her friends suggested she try Solutions for Change. She applied and was accepted at Solutions Academy on October 24, 2017. It took Jessica a long time to feel like she was ready to quit for good. It took tremendous hardships—and a nudge from Solutions for Change—to truly inspire her transformation.
Jessica, now 36, has seven years clean, this month. She attributes Solutions for Change for her success with remaining sober. Once there, she made friends; she became a Resident Aide; she even spent time showing support to others who've been addicted and homeless like her.
"I was ready to give my kids the life they deserved: stability, routine, a mom that's there for them 24/7," Jessica said. "Coming to Solutions was the best decision I ever made."
"They helped me stay clean," Jessica said. "I found a bunch of females at Solutions for Change, and we built a support group. And whenever I felt like I needed to talk, they were there for me."
It was something she never experienced before: stability, comfort, safety, community. Being at Solutions was the first time she felt like she could give back to her kids the way she wanted.
"The first time my kids told me, 'Mom, I finally feel safe,' I knew that day there was no giving up, no going back," Jessica said.
But even more than safety, Solutions taught her to value her own journey: to honor and value herself.
"What helped me was just doing it for myself," Jessica said. "I'm not doing it for my kids. I'm not doing it for anybody else. I'm doing it for me."
She says Solutions made her feel like "a person rather than a number." It's another reason why she feels Solutions for Change worked for her, while other rehab facilities and shelters did not.
"I felt like at other places they thought, 'Oh well. You're gonna mess up anyway. Bye,'" Jessica said. "But here (at Solutions) it's like, 'No, we are gonna pick you up if you mess up again. Even if you struggle with money or doubt or anything, we are gonna pick you back up.'"
Jessica no longer has any desire to use. One of the major reasons for that is the community support, and her peers' insistence that her life is worth it.
"Solutions for Change believed in me until I could believe in myself," Jessica said. "And that was big because I didn't believe in myself. I didn't think I was worth it. But Solutions for Change told me that I am worth it. It's just amazing."
Now that she's escaped The Churn, Jessica's determined to help others do the same. She's just a few classes away from finishing her high school degree. After that, she has plans to go to college to study to be a drug and alcohol counselor.
"Because I've been through addiction. I know addiction. I know how to overcome it. I am an Overcomer," Jessica said. "And why not help others be Overcomers?"
Jessica is now employed full time, providing for her girls while putting herself through school.
Solutions for Change brought immense healing to Jessica's life, and she's risen into becoming an indomitable Overcomer, helping others up too. Now, she believes everyone has a story to tell.
"I see the homeless people out here and instead of saying, 'Oh wow, they need help,' I tell myself, 'Oh wow, they're gonna have a great story one day,'" Jessica said. "I'm praying their story is gonna be great."
"Don't give up on yourself because others aren't giving up on you," Jessica said, speaking to others battling addiction. "And God's not done with you yet!"
Solutions for Change has programs and housing opportunities for anyone seeking to overcome their current situation. Reach out to learn how you can strengthen our community by supporting the organization's critical work, or make a gift today.