Jerome's Cares Day (Building Crew)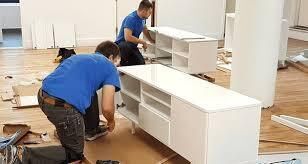 Jerome's Furniture graciously donated truckloads of furniture for our Main Campus Expansion, and we are so grateful! Progress on our expansion is so important, because it allows us to bring in more families. We have decided to celebrate their generosity by hosting "Jerome's Cares" Day to honor them, and get the furniture assembled around campus.
Volunteers are needed to help assemble furniture, move boxes, assist builders, distribute snacks and water bottles, clean up, etc!
Skills Required: A giving heart and basic use of tools.
BYOT (Bring your own tools)!: This is encouraged, but not required. We will need allen wrenches, screw guns, dollys, and power drills. If you have some at home, please bring them with you, labeled with your name and phone number.
Lunch will be provided.
This is a great individual or group volunteer opportunity. Please reach out to Karina at kmartinez@solutionsforchange.org with any additional questions.