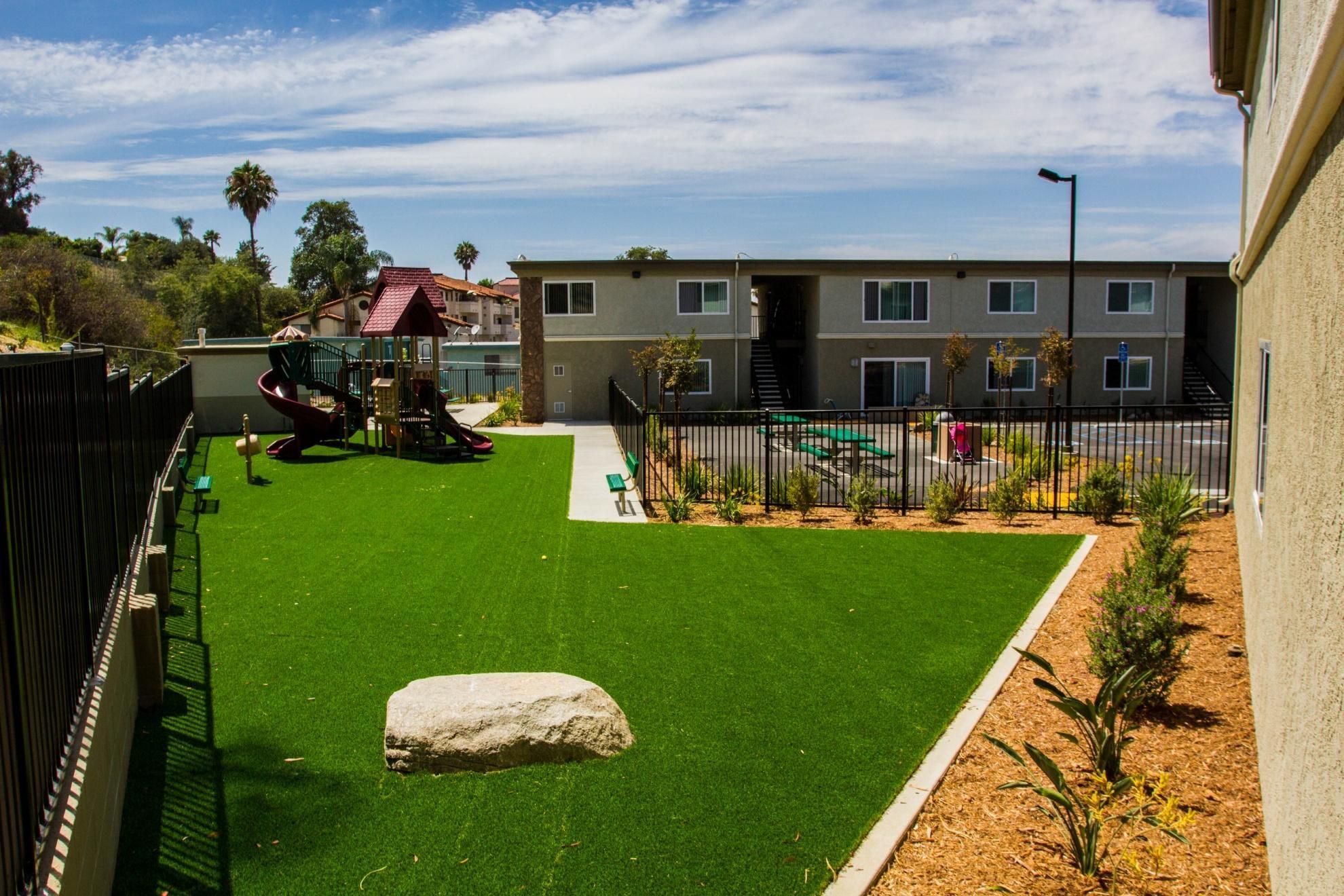 Dear Friends and Supporters of Solutions for Change,
The Union Tribune Newspaper just published an article on our recent decision to sever all our affordable housing from our mission of solving the root causes of family homelessness. We know that this is surprising news to some of you, so we want to take this opportunity to be very clear about what this means, what it doesn't mean, and lastly, what our future holds.
What this means
Due to continued pressure by government agencies, we can no longer keep 140 of our 200-family housing units drug free and empowerment based. 418 once homeless children and their parents, many who have been sober, healthy, working, and in active recovery from the devastating impacts of addiction, mental health challenges, domestic violence and trauma for many years live in these 140 units. After two years of striving to keep this housing safe, Solutions was forced to eliminate these units from our mission, which includes ending all of our life transforming work and recovery programs in these apartments. The units will be managed by an outside property management company, simply as affordable housing, under the state's Housing First law and HUD rules.
As a result, and for the remaining 60 families that live in our other housing units and are enrolled in our programs, we have pivoted to a new programmatic engagement called Solutions Academy. We will serve these families at our intake center and main campus in Vista, which are not affected by these top down rules. These roughly 200 parents and their children will receive the full benefit of our holistic and comprehensive life transforming and empowerment-based work and recovery programs, which include living in drug free, safe, family-oriented housing.
Through HUD's current system, the County of San Diego will begin placing homeless families directly into these once drug free and supportive apartments. None of these newly placed families are required to participate in self-improvement services to help them recover from their very serious causative factors (such as heroin/meth addictions), and none of these families are allowed by government rule to participate in our workforce training and job placement programs.
What it doesn't mean
Most importantly, you can rest assured that none of our locations are closing, and we are hopeful that one day we can reclaim them. These changes mean that about two-thirds of the families living in those locations are now under rule of the government's Housing First system, which is why we had to sever the units from our mission. Also, we are very happy to share with you that we are not planning on any staff layoffs. Due to the #WeAreOneUs systems change effort, all of our team members are more valued and needed than ever! In fact, due to the priorities given us, we are growing!
Despite the immense challenges that have been put upon us by top down government rule (who we know we cannot fight), we will not give up on the families who are still here in these 140 apartment units. Many are single mothers and they are very scared of losing their rights to a clean, safe and sober living environment. Many came to us, describing themselves as Housing First refugees, to escape the horrible conditions of open drug abuse and trafficking from the Housing First places they were in. Some have voluntarily given up their apartment units to come back into Solutions Academy. Others, fearing that they could relapse and lose their children, have left. For those who remain, we are working diligently to find other places for them to get into, and this is where YOU can help!
Our Future with Those Who We Serve: Our Families and YOU!
As part of the #WeAreOneUs systems change movement that the 21 Founding Overcomers (graduates of Solutions for Change) launched on Sep 26, we remain focused and stronger than ever. Our amazing Overcomers have been planning this past week and they have come up with a plan to keep our current families safe, and to get these unsafe families out of these government, drug sponsored units, and into a safe, drug free place. But, they need us to rally around them! Here is how we can rally and support these families:
Be One Us and join the Overcomers Leadership Circle! For just $100 per month you'll be a trusted and important member of the #WeAreOneUs movement! You'll get recognized throughout this movement and you'll get exclusive insights from on the ground reports from the 21 Founding Overcomers as they push back with love, humility and a tenacious commitment to serve to solve, that only they know. You'll also get a #WeAreOneUs Tee Shirt to wear proudly and let others know that you are part of this movement and a member of the Overcomers Leadership Circle. Every quarter you'll get an invite directly from an Overcomer to a behind the scenes look into their progress, so that you'll know exactly how your monthly investment is serving to solve and transforming lives! Invest here and make sure you let us know that you're One Us! For our general giving page, click here.
Be a Champion for Real Change and Fund a Serve to Solve Project! Our families need safe, drug free housing, and we can give it to them outside of this top down, government-controlled system. Our Overcomers found an amazing solution, and with our team of dedicated employees at Solutions, they can make it happen! Please consider reaching out to Tania Azar, our VP of Strategic Advancement, at tazar@solutionsforchange.org or call her at (760) 941-6545 ext. 325.
With the #WeAreOneUs systems change movement, we have reopened our Legacy Circle that began in earnest in 2010. It was through the Legacy Circle that we attracted a First Lady, a Secretary of State, an iconic Hall of Fame football legend and America's most decorated and respected veterans to passionately exclaim Solutions for Change as a model for the nation in solving the root causes of homelessness. There are only twenty-one of these opportunities available and they are reserved for those who desire to be involved directly with the national visionaries who vetted and selected us to lead this national effort, which just began a few weeks ago, and will continue to help our neighbors right here for the next three years! Chris Megison, our cofounder and President/CEO is eager to share the details with you. He can be reached directly at chris@solutionsforchange.org or call him direct at 760-497-0041.
Click here to read the Union Tribune article and we hope you will share your thoughts in the comments at the bottom!
Sincerely,
The Board of Directors at Solutions for Change