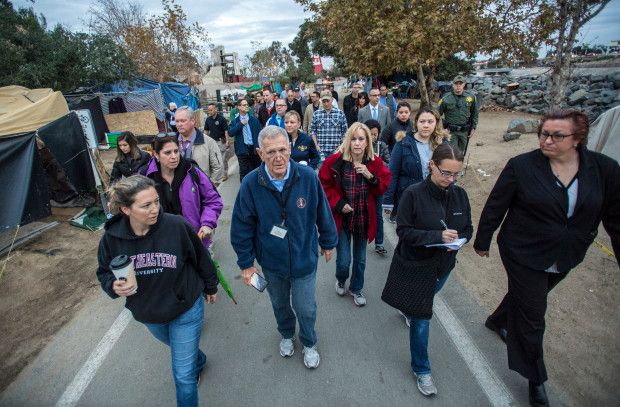 Have you heard that providing housing ends homelessness?  It's a clever phrase, but it fails to take into account the real complexities of ending dependency, poverty, and establishing self sufficiency.  Add to that local and national politics, conflicting policy goals, and a real lack of understanding of what it takes to solve homelessness and it's no wonder so many people are getting this issue wrong.
One of the most visible examples of the failure of current homelessness policy is the cleanup of the Santa Ana River Bed near Anaheim Stadium. Years in the making, the scene has been made famous by videos of cyclist capturing the depravity of almost 1,000 people living along a bike path in a large homeless encampment. With the situation deteriorating, the County acted by cleaning up the encampments and displacing the homeless that called the bike path home.
Part of the political pressure has been created by a well-coordinated group of very vocal homeless activists who have been going city to city in Orange County demanding that cities house those encamped on public lands.  The clean up of the river bed initiated a lawsuit by the activists and U.S. District Judge David O. Carter became involved.
In what some characterize as judicial over-reach and others see as effective mediation, Judge Carter pushed the Orange County Board of Supervisors to a decision, costing millions, overnight. What seems to be the upshot is that the county and cities of the region must provide and pay for housing for those encamped on public property. In essence, Judge Carter agreed that housing alone ends homelessness and that the public is required to pay for it.
On March 17, after a day-long hearing in Judge Carter's courtroom, the OC Supervisors agreed to spend a combined $90 million on housing for those living along the riverbed.  This amount is the single largest appropriation ever committed by the county to fight homelessness.
About 700 homeless individuals who had been camping along the two-mile stretch of the Santa Ana River Trail, in various shelters including motel rooms. According to Judge Carter's plan, they will soon be moved to shelters in three different cities throughout Orange County: Irvine, Huntington Beach, and Laguna Niguel. The County budget is intended to provide permanent housing as well as 400 temporary homeless camps in these cities.
Judge Carter's actions are founded on good intentions – house the homeless living on the streets because the county has failed to act quickly enough. But, like the last ten plus years of homelessness plans and policies, the new plan does not solve homelessness, it contains it and, in the end, may create more of it.
Here's why the plan is short sighted and will not result in housing stability:
Housing by means of hotel rooms and temporary camps do not address why people are homeless in the first place. It often enables destructive behaviors like drug abuse, crime, and increased dependency. A portion of the 400 individuals given hotel vouchers have already been evicted due to unruly behavior, crime, and drug use. These individuals are often the one's who refuse shelter beds because they do not want to be accountable to rules.
Judge Carter may have unwittingly sent up a signal flare that Orange County is the place to camp on public land and if the local government does not like it, they will pay for a hotel room.
It's worrisome when the judicial branch uses its power to dictate local policy.  This often creates troubling precedents and policies that don't capture the whole picture. It endorses the notion that if you are housed, you are no longer homeless. And it fails to consider more effective upstream approaches that emphasize personal development, workforce training, and a supportive community to support healthy choices. Without these elements, the homeless will keep doing what they are doing now – taking from the public with zero accountability.
Lastly, it undermines the democratic process of local governments attempting to struggle with complicated issues. It puts activists in control over housing, land use, and public benefits.
This situation of out-of-control homeless encampments is not unique to Orange County; communities across the country are struggling with HUD's one-size-fits-all downstream approach.   When homeless encampments and the larger issue of homelessness in general becomes the stuff of court action, everyone – particularly the homeless – will be worse.  Because the issue is complex, the population diverse, and some approaches not appropriate for all populations, quick action is not always the best action.  That's why we need a new approach to fighting poverty and homelessness.