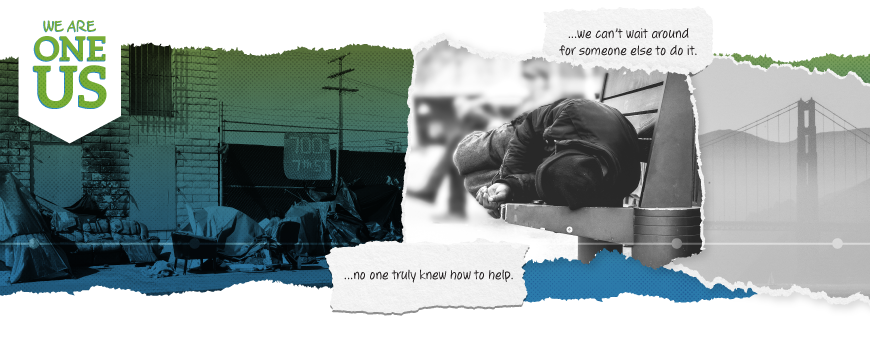 In the decades after World War II, the post-war excitement helped the economy thrive, while work and housing were plentiful. Nothing lasts forever though, and by the 1970s the United States was slipping into a recession.
A big shift in society and homelessness was on the horizon, and the first signs of a new era of chronic homelessness arose in the early 1980s.
Southern California became a focal point in the national conversation about widespread homelessness. In 1982, Los Angeles made the news as dozens of homeless communities formed under their freeway bridges. One such community called themselves "the Troll Family" as they huddled under bridges and stayed out of sight. The California Department of Transportation estimated at the time that hundreds of people were creating encampments all along the freeways from Ventura to Los Angeles.
Three years later in 1985, a community of homeless individuals built a neighborhood of plywood, blankets and old tires on a public playground. They so desperately needed shelter and support that they claimed public spaces. The founder of this community, Ted Hayes, was connected to several other homeless communities in public areas of Southern California. He argued that there were so few options for shelter, that the homeless had no choice but to create these communities—they were the only viable way for them to take care of each other.
Then in 1987, Los Angeles' homelessness issue came to a head after four people died in the near-freezing weather on the streets of the city. The situation was so dire that the Los Angeles City Hall opened up as a temporary shelter. At this point, local governments were being criticized harshly for not taking more action to provide support to the homeless, but no one truly knew how to help.
While much of the news coverage of the homelessness crisis of the 1980s focused on California, the problem spread throughout the country. Why was homelessness suddenly so prevalent, and why were people having a harder and harder time pulling themselves out of it?
First, in the late 1970s and 1980s, urban center populations were seeing an influx of gentrification. Areas which used to contain affordable apartments were now being overhauled by local governments, and the poorer residents were getting priced out of their own homes. In 1983, a study found that 23 percent of urban residents in Boston, Cincinnati, Richmond, Seattle and Denver were displaced because of eviction or rising rent. Nearly a quarter of downtown residents were forced out of their homes in these cities, and while some could find new housing in the suburbs—some just couldn't afford that.
Affordable housing both inside and around cities was scarce in the 1980s, and the U.S. Department of Housing and Urban Development (HUD) couldn't do much to solve it. In 1976, HUD's budget was $29 billion, and this budget was regularly slashed until it hit a low point of $17 billion in 1990. Cuts to the HUD's housing assistance programs were even deeper. There was simply not enough funding to support an initiative large enough to fill the huge gap in affordable housing.
On top of housing and funding issues, the 1980s brought forth new stigmatized health issues that disproportionately impacted those at risk for homelessness. Deinstitutionalization in the 1970s left thousands of people without sufficient mental health care. The U.S. was moving its focus away from institutions and toward better mental health care options, but those options had not yet come to fruition. So, many with mental illness lacked the support they needed to live stable lives, and they often fell into addiction and homelessness.
Another major health crisis impacting homelessness in the 1980s was the HIV/AIDS epidemic. AIDS and homelessness were an all too common combination in the 80s, as addiction put people at a higher risk for both. The fear and stigma associated with AIDS left homeless populations even more ostracized from society—helping the homeless was starting to be seen as dangerous.
All of these factors combined to create an unhealthy, unsupportive environment for those at risk for homelessness. These issues haunt us to this day, and are the foundations of the modern era of The Churn.
Ever since the 1980s, the face of the homeless population has changed. In the past, the primary demographic of the homeless was young, unemployed men. But now, there are so many paths to homelessness that people of any age, race or gender can find themselves on the streets. The face of homelessness is women, children, families, the elderly, the mentally ill and the addicted. They desperately need support, and we can't wait around for someone else to do it.
At Solutions for Change, we're taking the problems of modern homelessness into our own hands. The world isn't a straightforward place, and we exist to prepare people to face life's challenges head on. We give our residents the tools they need to lift themselves from The Churn and leave homelessness in their past.
The Churn isn't going away, but we can fight it together. Look out for our next blog about the Overcomers of homelessness in the 2020s, and reach out to learn how you can support our mission against The Churn.
---