We Help Transform Lives and Restore Community
Right now, 20 million people are stuck in The Churn in the United States—including millions of stressed parents and children without a stable place to grow.
Since we opened our doors in 1999, we have seen how homelessness and poverty trap people in a cycle of  hardship, temporary relief, and dependency. This cycle is what we call The Churn—it's a costly and futile cycle that captures the most vulnerable and keeps them and their loved ones trapped.
Our goal is to teach people to fight The Churn, and help them overcome to live happy, independent lives. 
Our Approach
Common methods for addressing poverty are usually temporary and one-size-fits-all. They do more harm than good by not providing people a solid foundation to defeat The Churn. People experiencing homelessness, poverty, chronic unemployment and dependency are all different. They need unique, tailored solutions so they can overcome their challenges and transform their life.
That's where Solutions for Change comes in. We offer real solutions to anyone seeking to Overcome. Our programs don't put Band-Aids over the symptoms of poverty. We get to the root causes of each individual's struggles and solve them.
Through Solutions Academy, Solutions Enterprise and Solutions in the Community, we educate, equip and inspire students to take their lives back, provide employment training and career pathways to sustain themselves and their families, and empower our community to support and celebrate the Overcomers.
Why We Fight to Solve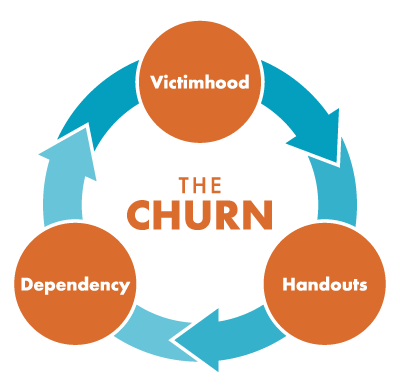 We fight to stop The Churn and restore community.
Many public assistance programs offer inadequate responses for family homelessness. Shelters, motel vouchers and even government subsidized housing provide a Band-Aid, but not a permanent solution–because they do not address or resolve the root causes of homelessness and poverty.
We create solutions for the future generations.
There are about a half a million children caught in The Churn here in the United States, and unless we commit to solving it, these children face a greater likelihood of falling into the pattern of generational poverty and homelessness in the future.
---
How Our Model Creates Permanent Solutions and Lifts Families Out of The Churn