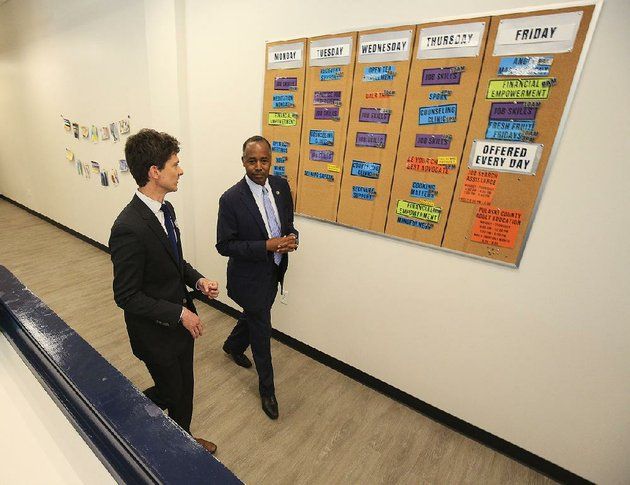 National Coalition of Homelessness Solutions member, Our House, hosted HUD Secretary Ben Carson, last Tuesday as he made his rounds across the nation to find solutions to tackle homelessness. Our House, located in Little Rock, Arkansas empowers homeless and near-homeless families and individuals to succeed in the workforce, in school, and in life through hard work, wise decision-making, and active participation in the community.
Executive Director Ben Goodwin discussed the successes of their program during a lunch meeting with Secretary Carson and Congressman French Hill. This was followed by a tour of their 7-acre campus, and a press conference held at their shelter.
The Secretary praised Our House's model of wrapping whole families in support as they work to overcome homelessness and build better lives for themselves and their families. The shelter, which also offers job training and child care for homeless and near-homeless people, receives about 25 percent of its annual funding from federal and local governments. The rest comes mostly from private donations.
Ben Carson stated, "This is a model that we must duplicate across the country."
The Coalition is working to encourage HUD to allow upstream as well as downstream approaches to addressing homelessness. By doing so, HUD could support the empowerment of millions of individuals, families, and children experiencing homelessness and break the cycle of poverty and homelessness. Hopefully, Secretary Carson will recognize the shortcomings of HUD's exclusive embrace of Housing First, which fails to consider upstream approaches, such as what is working at Our House.