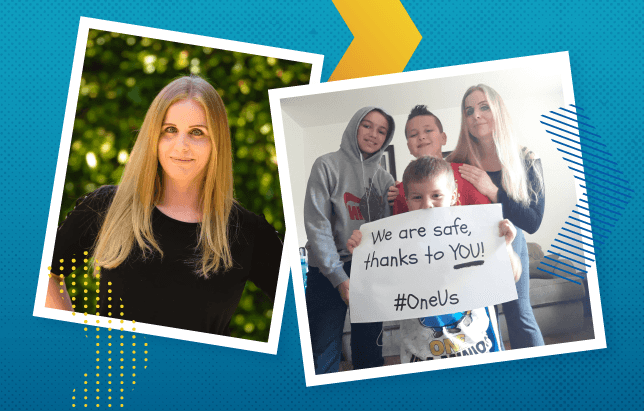 From Surviving to Thriving—How a Single Mom Overcame Addiction and Changed Her Family's Future
Shannon doesn't remember the first time she tried meth, but she remembers when she became addicted.
It was on her 20th birthday, when Shannon met her birth mother. That night, as a present, her mother taught her how to shoot meth "the proper way."
For the next 20 years, Shannon was an addict. By 2017, addiction crippled her life so much that she lost her children to Child Protective Services. After realizing she was hurting her children the same way her birth mother hurt her, Shannon hit a breaking point. She knew if she didn't get further help after rehab, she'd lose her kids again (maybe for good). Desperate, she reached out to Solutions for Change for a chance to get them back—and keep them.
Shannon, now 42, works as the Empowerment Aide Lead for Solutions for Change. She's been clean for five years—a personal record. She now helps people struggling with homelessness and addiction, encouraging them to see their worth and become Overcomers—just like her own Coaches did for her.
She said if she hadn't found Solutions, she "would've been another statistic."
"Being a child who grew up in the foster care system, I didn't feel loved; I didn't feel wanted," Shannon said. "But Solutions, literally as soon as I got here, was just open arms. They just welcomed me. I could tell that they really cared about my wellbeing."
"They had drug testing- the accountability," Shannon added. "I knew it was a safe place because everybody was being held accountable."
Shannon threw herself into learning all she could. She began learning how addiction and codependency go hand in hand. Her Coaches helped her recognize how her own traumas from being the child of an addict played into her desire to do drugs, even though she was adopted by a good family.
"Then I started learning servant leadership," she said. "It's a whole new way of living and thinking. They say, 'Get up, suit up, and show up every day.' I started feeling like I had a purpose."
The open arms and the accountable, drug-free environment gave Shannon the strength to overcome her addiction. After coming to Solutions in June 2017, Shannon was able to get her kids back that same August.
They've been with her ever since.
"My oldest—he's 18 now—he was 13 when all this was happening—sometimes he'll look at me and say, 'I can't even picture how you used to be because you're so different,'" Shannon said. "It makes me feel good."
Shannon graduated Solutions Academy in November 2020. Not long after, she was offered a chance to work there herself.
She was nervous at first, she said. But she's glad she accepted.
Now, she gets to teach classes and coach students on things she never expected to be an authority on: addiction, codependency, even parenting!
She said the most rewarding part of her job is witnessing students' transformations and seeing them try new coping mechanisms.
"I just love seeing (students') growth because there's always something deeper going on, and we're able to bring that out," Shannon said.
The experience has enlightened Shannon to a greater purpose in her life. She went back to school and only has a few more classes to go before she can transfer to a university.
"I'm going to major in Human Development with an emphasis on Counseling," she said, beaming.
"Thanks to Solutions for Change, I was finally able to address the deep-rooted issues that I had since early childhood," Shannon said. "That was the only way I could achieve long-term sobriety and break the generational curse."
"I felt like a survivor most of my life. And now my children and I are not just surviving, we're thriving," she added. "We are all Overcomers."
Solutions for Change has programs and housing opportunities for anyone seeking to overcome their current situation. Reach out to learn how you can strengthen our community by supporting the organization's critical work.